Tuesday's tip is here. I have been getting mails and comments mentioning that this section in my blog is very informative and useful and I must write Tuesday's tip without fail :-) :-). So the wait is over!
Today it is

all about tomatoes

.

Tomato is one such ingredient that is used in Indian cooking a lot and I can't think of anything if there are no tomatoes in my kitchen. Summer is the time when tomatoes are available in abundance and one must take full advantage of this season. By the way did you know that there are over 10,000 varieties of tomatoes? Tomato is a very healthy vegetable which has good water content, is rich in Vitamin C and have zero cholesterol level. That is too much of gyan from my side :P Now let us see the tips.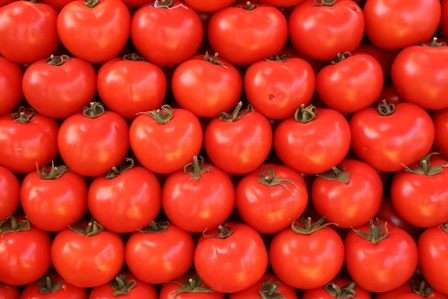 Buying and selecting is the real trick. Choose the one that is firm, full and deep bright red in colour. Avoid the one that is mushy and or even slightly green –both of them will lack in flavour. Don't worry about tomatoes with weird shapes. Even cracked skin is okay, but leaking juice and soft spots are not.

Another test is the smell; prefer one that has strong earthy odour- stronger the smell means better tomato. Shun the ones with no smell- they are complete no no.
Tomatoes are delicate and fragile and must be handled properly.

Refrigerating tomatoes damages the membranes inside the fruit walls, causing the tomato to lose

flavour

,

so the best place to store tomatoes is at room temperature.

Take off their wine stems and keep them upside down, this will help tomatoes stay fresh for long.

If tomatoes are not quite ripe, leave them in a brown paper bag for a couple of days.
How to preserve Tomatoes:
Whenever we think of preserving jellies and jams comes to our mind. But here is an easy way -just freeze the whole tomatoes. Yes! If you have space in the freezer just put tomatoes in a Ziploc bag and freeze them; it stays fresh for long.
Hope these tips help. Please comment if you have any tip/s related to tomatoes.
* Disclaimer :::: Not all the information mentioned above is my own and some of it are taken from various books and online sources like Google including the pics. My pics will have my logo on them , rest all are taken randomly from Google